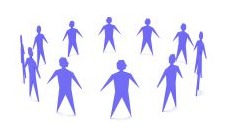 ScotSectorlink is an independent initiative in response to the many shared economic and social concerns of UK residents. Its aim is to help forge links so that local economies make the best use of opportunities arising from world financial turmoil.
ScotSectorlink is owned by Calemcal Ltd on behalf of Scottish residents. A full audit trail of transfers between ScotSectorlink and Calemcal Ltd is lodged with solicitors in Edinburgh.

Calemcal has worked informally with the Scottish Government since 2007 to evolve ways in which employers of local people can inform public policy, further to Calemcal having established the Exwin Collection, an independent, cross-sector UK-wide forum, for the same purpose in 2004. A project in 2008 enabled partners in Scotland's employability programmes to access Exwin via
www.employabilityinscotland.com
to share successes and concerns about how 'engagement with employers' enabled young people to earn a living in the mainstream labour market.

Many thanks to the hundreds of residents of all ages, from all sectors and many walks of life, who have enabled ScotSectorlink to be established, and with one website for all.
Contact ScotSectorlink using the email link at the foot of the page.